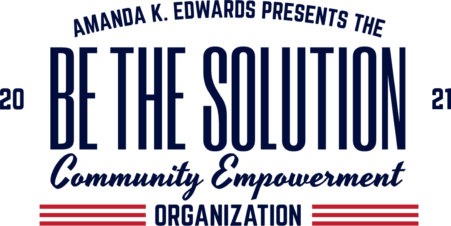 MISSION & PURPOSE OF THE BE THE SOLUTION: COMMUNITY EMPOWERMENT ORGANIZATION
After hosting several groundbreaking events ranging from senior town halls to youth empowerment films and transformative initiatives under the auspices of the Council Member Edwards' Community Empowerment Signature Series, Amanda continued her focus on opportunities to empower through targeting outreach and inspirational engagement. Amid the turmoil lying at the center of the COVID19 pandemic and the aftermath of George Floyd's murder, Amanda founded the Be The Solution: Community Empowerment Organization to present a series of tailored programming and efforts designed to engage, educate, equip, empower, and encourage residents to "be the solution" in their respective communities.
For more information about the Be The Solution: Community Empowerment Organization, please reach out to bethesolution@amandakedwards.com.
---

An Evening of Women's Empowerment
In light of the particular need to share stories and perspectives of women that can inspire others to shatter glass ceilings, Amanda Edwards is hosting An Evening of Women's Empowerment! This year, An Evening of Women's Empowerment will take place virtually on March 30, 2021 from 6:00pm CST to 7:30pm CST. The theme this year is "The 2021 Women's Renaissance" and the event promises to empower attendees. With speakers ranging from leaders like Mayor Annise Parker and Emily Cain (Executive Director of EMILY's List) to leaders like Mikaila Ulmer (Founder, Me & the Bees Lemonade) and Shauna Clark (Global & US Chair of Norton Rose Fulbright), this event features numerous renaissance women who blaze trails in business and the community. Attendees will also hear from speakers like Pastor Juanita Rasmus who will inspire them to be "whole" as they pursue their boldest dreams!
This event will be hosted in partnership with the Greater Houston Women's Chamber of Commerce, WatchHerWork, Social Mama, Women's Masters Network and the Women's Business Enterprise Alliance. This event has been oversubscribed in the past so make sure to register timely! Registration opens on February 16, 2021. Door prizes will be available, as well!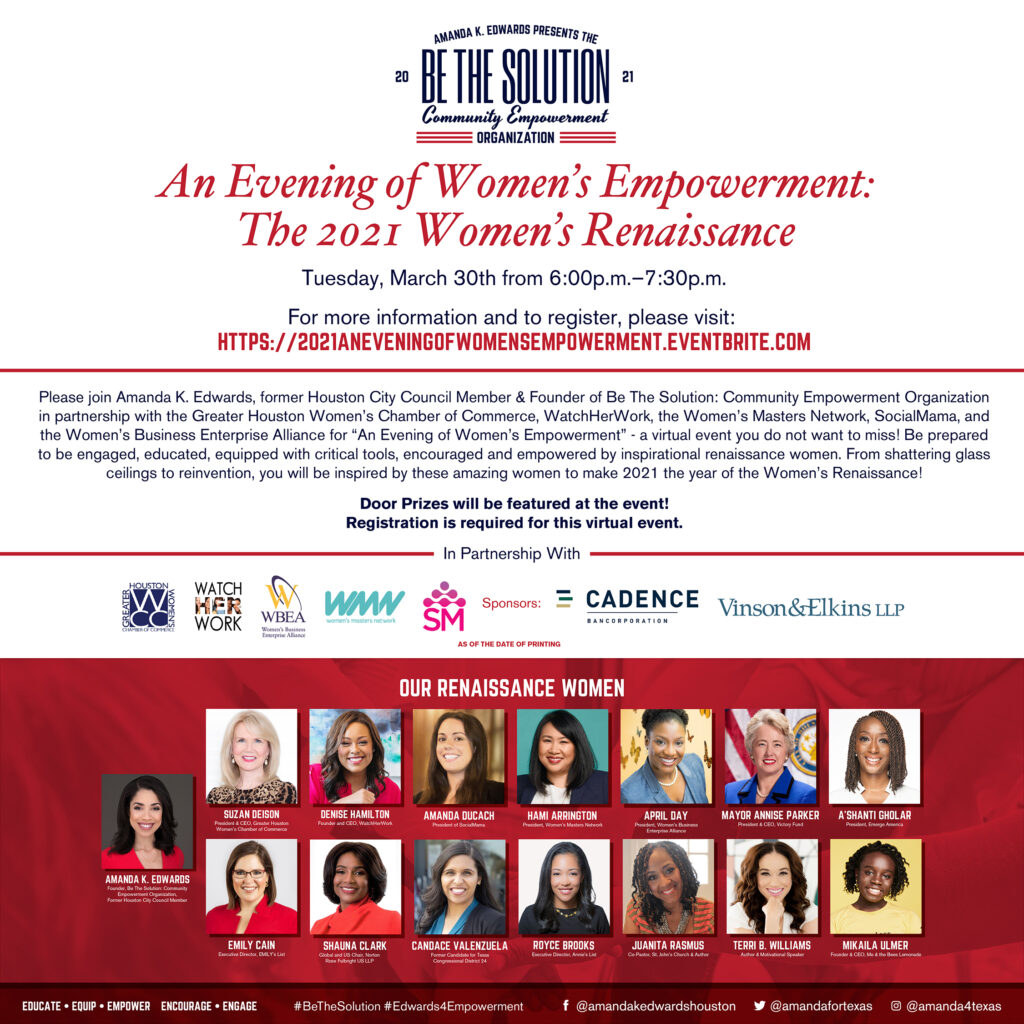 The Empowered You: Texas Senior Citizens Conference
In light of the need to invest in our senior citizens in a meaningful way, especially in these difficult times, The Empowered You: Texas Senior Citizens Conference will be coming back! The Empowered You: Texas Senior Citizens Conference will serve as a one-stop-shop event that will provide resources and information to help senior citizens thrive in this season of their lives. Participants will be inspired by dynamic speakers, informative workshops, community resources, and a host of other fun activities that will range from healthy cooking classes to line dancing, among other things. Residents can immerse themselves in topics such as estate planning, life after retirement, navigating healthcare and more. The event will feature live performances, dozens of workshops and resource tables, as well. This free annual event has served thousands of seniors in the past and is in high demand so please be timely when registration opens.
VIDEOS & PHOTOS OF PAST EVENTS