MISSION & PURPOSE OF THE BE THE SOLUTION: COMMUNITY EMPOWERMENT ORGANIZATION
After hosting several groundbreaking events ranging from senior town halls to youth empowerment films and transformative initiatives under the auspices of the Council Member Edwards' Community Empowerment Signature Series, Amanda continued her focus on opportunities to empower through targeting outreach and inspirational engagement. Amid the turmoil lying at the center of the COVID19 pandemic and the aftermath of George Floyd's murder, Amanda founded the Be The Solution: Community Empowerment Organization to present a series of tailored programming and efforts designed to engage, educate, equip, empower, and encourage residents to "be the solution" in their respective communities.
For more information about the Be The Solution: Community Empowerment Organization, please reach out to bethesolution@amandakedwards.com.
---

The Empowered You: Texas Senior Citizens Conference
Be The Solution will host "The Empowered You: Texas Senior Citizens Conference" on Thursday, October 14th, from 10:00 a.m. – 1:30 p.m. Due to the pandemic conditions, this event will be both virtual via zoom and also via tele-townhall. To register to attend the event virtually via zoom, please click here: https://virtual_texas_senior_conference.eventbrite.com. To register to attend via tele-townhall, please click here: https://tele-townhall_texas_senior_conference_2021.eventbrite.com. Make sure to register by the deadline of September 17, 2021.
This free event, which is in partnership with AARP, will be a one-stop shop where seniors will be equipped to thrive in this season in their lives. The event will feature a discussion on health by Dr. Ugo Ihekweazu, and inspirational speakers including: Rawle Andrews (President-Elect, Bar Association of D.C.), DeEtte Sauer (Champion Swimmer) and line dancing.
This is the 4th annual event to empower our seniors, which has served thousands of seniors in the past. Due to the pandemic, we will be able to make a home delivery of a goodie bag with lunch to the first 250 seniors to register for the conference.

An Evening of Women's Empowerment
In light of the particular need to share stories and perspectives of women that can inspire others to shatter glass ceilings, Be The Solution virtually hosted An Evening of Women's Empowerment on March 30, 2021. "The 2021 Women's Renaissance" theme was felt throughout this empowering event with speakers ranging from leaders like Mayor Annise Parker and Emily Cain (Executive Director of EMILY's List) to leaders like Mikaila Ulmer (Founder, Me & the Bees Lemonade) and Shauna Clark (Global & US Chair of Norton Rose Fulbright). Speakers like Pastor Juanita Rasmus taught us to breath and remember to be Human Beings rather than just Humans Doing. This event was hosted in partnership with the Greater Houston Women's Chamber of Commerce, WatchHerWork, Social Mama, Women's Masters Network and the Women's Business Enterprise Alliance and empowered hundreds of the audience members to pursue their boldest dreams.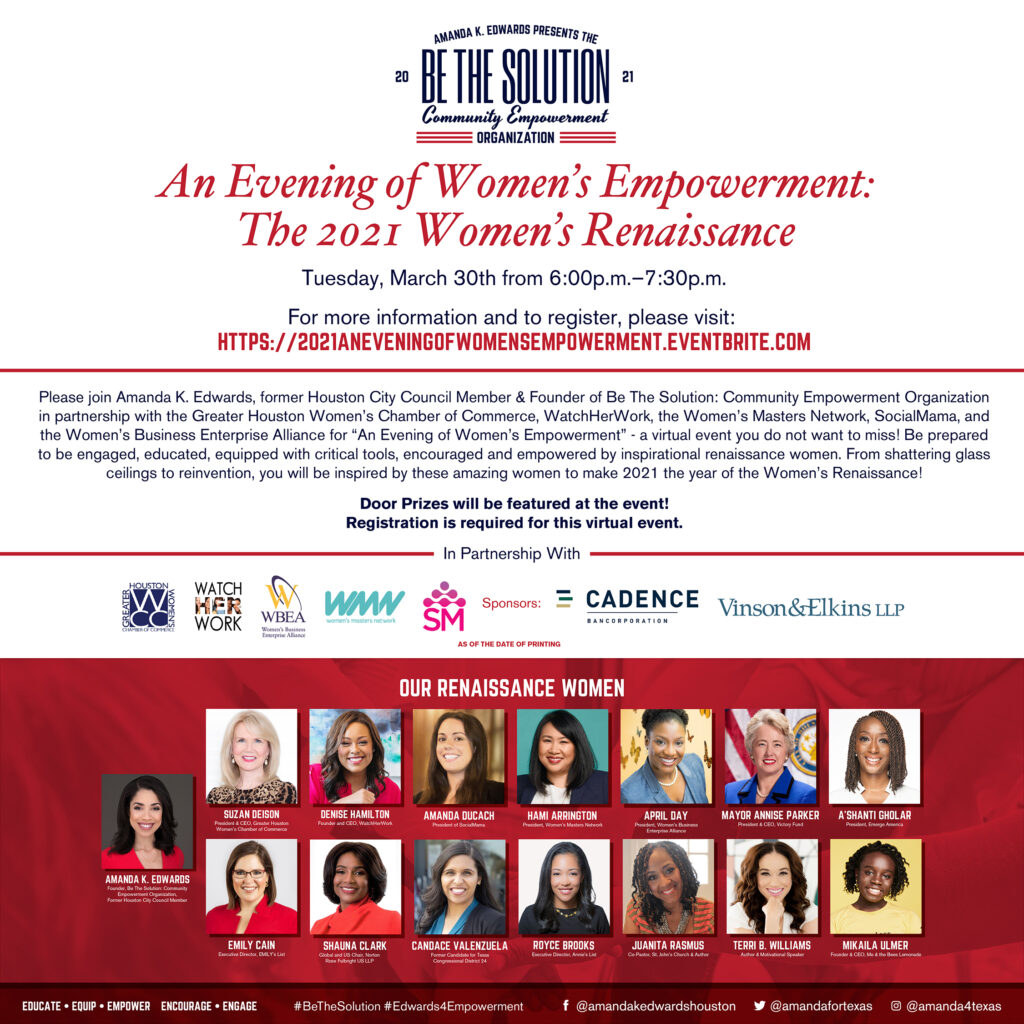 VIDEOS & PHOTOS OF PAST EVENTS